Easkey, Co. Sligo in the West of
Ireland
O'Dowd Castle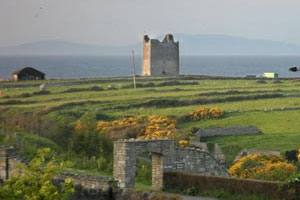 Built in 1207, the castle was home to the O'Dowdchieftains of the barony of Tireragh (West Sligo), having been originally built for Oliver McDonnell who came to the area to marry an O'Dowd widow. Although much of the original structure has been lost over time, the main body of the castle remains. Situated adjacent to Easkey pier, the 63 feet high castle is a dominant landmark and the highest part is known as the 'Sailor's Bed'.
Rathlee Tower
Rathlee Tower is an historical landmark 3 miles from Easkey. The tower served as a watch-out post during the 19th century and was used during the 2nd World War as a lookout post. Today all that remains of the tower are the four walls.
Easkey Bridge
Built in 1847 after the old bridge was washed away in 1844, Easkey bridge provides access to the village from the Sligo side of the area. The Bullance stone built into the bridge wall is a symbolic drinking trough, which qualified the village to hold a "Fair Day". The water in the stone is reputedly a cure for skin infections. Hangings took place in the early 19th century from the bridge.
The Split Rock
A mile south of Easkey on the R297, heading towards Sligo, is the unusual Ice Age boulder known locally as the 'Split Rock'. Local legend holds that the rock was split as a result of an argument between two giants on the Ox Mountains, one of whom was Fionn MacCumhaill. It is said that if someone dares to go through the split three times, the rock will close in on them!
The Abbey
Situated in the centre of the village, Easkey Abbey and graveyard dates back to Medieval times. The graveyard holds some uniquely designed tombstones and was in use until Roslee cemetery opened in 1888.
Dromore West Work House

This workhouse was built in 1852 and continued to function until 1922, after which the building was burnt down during the Civil War. Situated on the main Ballina/Sligo road, beside the Easkey River, part of the workhouse is now the home and studio of two local artists.
Pullaheeney Coast Guard Station, Rathlee
The ruins of this coastguard station can still be seen close to the sea and the harbour at Pullaheeney. Built by the British Government in the mid 1800s, in a townland called Caltraghkeel, the purpose of the station was to protect the coastline from invasion or smugglers who might dock at Pullaheeney Harbour. It was burnt in the 1920s during the Civil War by republican forces and was never rebuilt. Pullaheeney Harbour is still used by local fishing boats.